Record ANY Sounds Passing through Sound Card, Coming from Mic or Played by External Devices
Free Audio Editor can digitize sound recordings of your rare music cassette tapes, vinyl LPs and videos, creating standard digital sound files. Timer and input level triggered recording are included. There is a button to activate the system Windows Mixer without visiting the control panel. The recording can be directly loaded into the waveform window for further perfection.
Perform Visual Editing like Cut, Copy, Paste, Delete, etc. on your Recordings & Other Audio Files
You can edit audio using the traditional Waveform View or the frequency-based Spectral Display that makes it easy to isolate and remove unwanted noise. Intuitive cut/copy/paste/trim/mute and more actions can be performed easily. The selection tools make the editing operations performed with millisecond precision.
Stunning Audio Effects and Filters to Perfect Your Recordings and Make Music Creation Artistic & Stylish
Enhance your audio with more than 30 native signal and effects processing engines, including compression, EQ, fade in/out, delay, chorus, reverb, time stretching, pitch shifting and more. It significantly increases your audio processing capabilities. The real-time preview enables you to hear the results before mixing down to a single file.
Support A Wide Range of Audio Formats so that You Can Share Audio Easily Like Sharing Any Files
This free audio editor supports a large amount of input formats including MP3, WMA, WAV, AAC, FLAC, OGG, APE, AC3, AIFF, MP2, MPC, MPGA, M4A, CDA, VOX, RA, RAM, ARW, AIF, AIFC, TTA, G721, G723, G726 and many more as source formats. Any audio files can be saved to the most popular audio formats like MP3, WMA, WAV, OGG, etc. Furthermore, it is available to control the output quality by adjusting the parameters & our software also prepares many presets with different combinations of settings for playback on all kinds of software applications and devices.
Check out What You Can Do with Free Audio Editor:
Capture Any Sound
Record Sound from Any Resources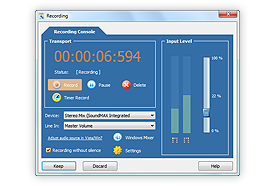 The built-in audio recorder enables you to record from mic, online streaming, internet telephone, web radio, LP, cassette tapes... everything you hear. With this audio recorder software, digitizing recordings to your computer's hard disk and creating standard digital sound files are just a piece of cake!
Edit & Enhance Audio
Visual Editing on Waveform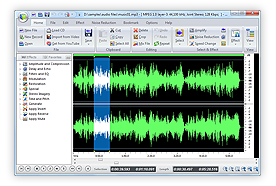 Visually edit your recordings & audio files on the zoomable waveform and apply various audio effects. This new generation audio music editing software lets you get more compressed music from your audio collection, save more hard disk space, create more personal music and share them with friends.
Create Music CDs
Burn Audio CD from Audio Files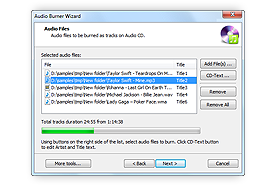 Free Audio Editor provides an audio CD burner tool to easily create your own custom music CDs which can be played in any standard home or car stereo. In this way, you can make a special birthday mix CD to send to your friends or simply have a second copy of your favorite music.


Reduce Noise
Turn poor-quality production into great soundtracks audio by easily removing imperfections such as ums, hiss, pops, clicks, rustles, chirps, shuffles, buzz and creaks using best-of-class noise reduction. It also provides particular restoration that seeks to reduce the cassette noise & voice breath noise.
Flexible Quality Presets
To adjust the output quality, you can choose the preset as needed. If you are familiar with the audio parameters and knows exactly what you want, the manual numeric adjustment is suggested. It allows you to produce high-resolution 24-bit or 32-bit files with sample rates up to 192 kHz.
Process in One Batch
Save countless time by speeding up tedious tasks with batch processing. Let Free Audio Editor automate operations such as converting the sample rate, transforming file format of multiple files, and even adding audio effects. Just input all the audio files and choose the commands you want to be executed.
Join Audio Files
The included audio merger is a free audio file joining tool. It can combine WAV, MP3, WMA and tons more files which are in various formats, frequencies and tracks into a file. You can arrange the files in the order you want and change output quality.
Bookmark & Region Marker
Free Audio Editor as an audio editing and mastering solution tool provides a bookmark function to simplify the editing process by inserting anchors such as labels and regions to your audio files. Regions can be saved as separate files. There are bookmark and region managers within which you can go to the marked position, check the details of them or select/rename/delete them.
Burn Audio CD
Advanced Audio CD Burner features support the ability to burn audio CDs from MP3, WMA, WAV, and OGG files. You can burn one track at a time, or choose disc-at-once and gain full control over the pauses between tracks.
Copy Audio CD
Copy Audio CD to computer for permanent backup and easier playback. If you are searching for a solution to enjoy tons of music anytime without carrying around a whole bag of CDs, the audio CD ripper of Free Audio Editor would definitely make that happen. Just copy all your music CD tracks to your computer or music players.
Load CD with CDDB
The free CDDB tool to help you search the online database for possible albums that matches (the artist, CD title, album, record label, track information, etc. could be retrieved and displayed). You can load one of audio CD tracks as you like to the waveform window for editing or directly save it to your hard disc.
TTS (text-to-Speech)
Text-to-speech tool can transform your text documents to audio files, so you can listen to your documents on regular stereo, car CD players and PocketPC, or integrate spoken audio into your product presentations.
Frequency Analysis
Deliver final audio confidently with the visual Frequency Analysis and Amplitude Statistics features, which can help you detect and eliminate frequency anomalies and clipped samples.
Keyboard Shortcuts & Key Tips
Keyboard Shortcuts control lets you assign any key or key combination to the buttons and switches on Free Audio Editor for faster use. The Key Tip Badge is also provided, which often requires fewer keys and is for every single button on the Ribbon. Press ALT to make the key tip badges appear for all ribbon tabs, Quick Access Toolbar commands and the Free Audio Editor Button. You can then press the Key Tip to activate the tab or command that you want, for example, press H for the Home tab. This makes all the Key Tips for that tab's commands appear.
Easy, Free & Safe
No more frustrating experience of music creation! All performance is wrapped up in one sleek and easy-to-use designed interface. Free Audio Editor is completely free to use. It costs you nothing and brings you the best audio creation experience as any other paid software! It is guaranteed not to contain any spyware, viruses or any other kind of malware. You may use it as long as you wish, with no registration and no limitation required. It's 100% clean and reliable to install and run.